Fujifilm XF 8-16mm f/2.8 R LM WR
Published:

FUJIFILM ANNOUNCES NEW FUJINON XF 8-16MM F2.8 R LM WR LENS.
Ultra-wide angle zoom lens with a constant maximum aperture of F2.8 and focal length equivalent to 12-24mm (35mm format). Capable of providing outstanding edge to edge image-resolving performance, this lens is perfect for landscape and architecture photography such as interior and nightscape, and astrophotography.
Features
- Focal length: 8-16mm (12-24mm full frame equivalent)
- Maximum aperture: f/2.8
- Minimum focus distance: 9.84 in (25 cm)
- Maximum magnification: 0.1x
- 20 elements in 13 groups
- Four aspherical and six ED lens elements (three super ED to correct lateral chromatic aberrations)
- Nano-GI coating to reduce ghosting and flare
- Field curvature correction element to improve sharpness and reduce distortion
- 9 rounded aperture blades
- 11 points of weather-sealing
- Weight: 1.77 lbs (805 g)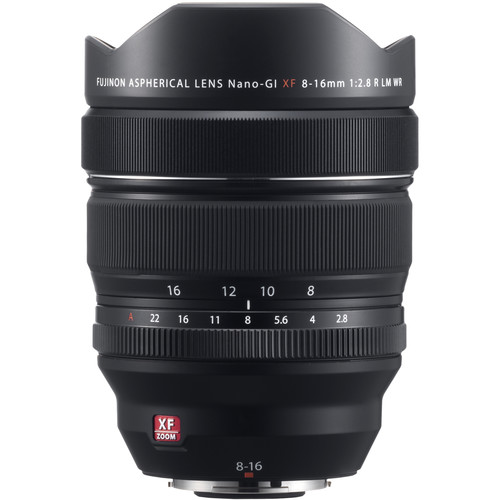 A bright maximum aperture of f/2.8 provides exceptional depth of field control and excellent performance in low-light scenarios.
Four aspherical lenses, three ED lenses and three super ED lenses minimize distortion and chromatic and spherical aberrations. Nano-GI coating on the front elements reduce ghosting and flare.
The field curvature correction lens corrects the field curvature commonly found in ultra-wide-angle lenses.
A linear autofocus motor provides reliable focusing quickly and quietly.
Coming soon to LensPimp