Adored by wedding and event photographers also a great studio lens, the EF24-105mm f/4L IS USM lens has carved a niche as a highly versatile lens. For many, this lens ca...
Learn more
Customer Review
Canon EF 24-105mm F4 L IS USM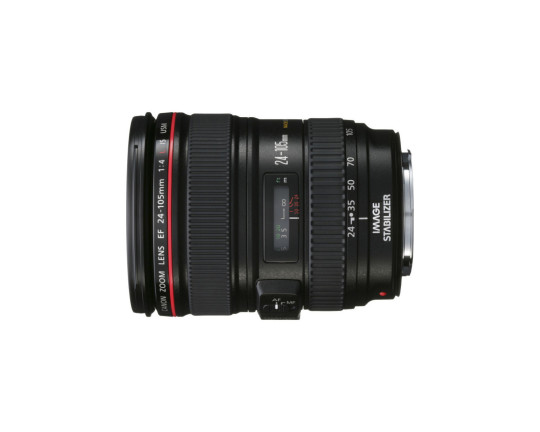 Prices based:
Available from:
24 October 2016
£45.00
Configure your order on the next page.
Overview
Adored by wedding and event photographers also a great studio lens, the EF24-105mm f/4L IS USM lens has carved a niche as a highly versatile lens. For many, this lens can provide all the focal lengths they're likely to need during a wedding ceremony from wide-angle group shots, to more intimate portraits of the bride and groom. The addition of the 3-stop image stabiliser means you can continue to shoot without having to resort to flash in low-light situations, for more natural results. The lens isn't just for weddings though. It makes a very effective standard walkabout lens with a focal range that ensures you'll be changing lenses less and shooting more. It makes an excellent lightweight travel lens capable of capturing the vibrancy of a Moroccan market or the stunning architectural details of a major city.
Incorporating three aspherical lens elements of two types – one glass mold (GMo) and two replica elements – with one super ultra-low dispersion (super UD) element, the lens produces sharp, high contrast images suitable for an L-series lens.
For fast, quiet and accurate focusing, the lens features a ring-type USM autofocus motor that allows full-time manual focusing to keep you in control of the point of focus. To cope with the tough conditions to which many professional photographers subject their kit, the lens features improved dust and moisture resistance, which is especially effective when attached to an EOS-1series camera.
Two types of aspherical lens elements- one ground glass, one glass mold (GMo) – are combined with a single ultra-low dispersion (UD) element to provide high-quality, sharp images with the high resolution appropriate to an L-series lens.
To ensure sharp, in-focus images, the lens is fitted with a ring-type USM autofocus motor for fast, silent focusing at all times. Being an L-series lens, it is constructed for the harsh conditions it is likely to be put through by professional photographers. . When attached to one of the EOS-1series cameras, the lens retains the dust and weather sealing characterised by those cameras.
Technical Information
Specifications
Brand Name:

Canon

Mount Type:

Canon EF

Min Focal:

24

Max Focal:

105

Lens Type:

Zoom

Focus Type:

auto-focus, manual-focus

Max Aperture:

F4.0
Size and Weight
Length:

107 mm

Diameter:

83 mm

Weight:

0.67 Kg

Packed weight:

1.3 Kg
Deposit
Deposit: £839.99 (Inc VAT)
What's this?
Customer Reviews
Canon EF 24-105mm F4 L IS USM
First Hire and first use of an L series lens by Lee Dighton
This was my first time to ever hire a lens and the first time I've used an L series lens. This lens is gorgeous! I liked it so much I have just sold virtually all my old lenses so I can hopefully buy one next year! Quick, virtually silent focus and amazing quality images, you wont be dissapointed. As for LensPimp? Top notch service that cannot be faulted!
Canon EF 24-105mm F4 L IS USM
Ideal use for studio work by Chris Quick
The Canon EF 24-105mm IS USM: Great range on that lens, the colour rendition was spot on. I used this lens for studio use and was ideal. Was amazed by the quality of the pictures developed because of the lens. Have to hand it to Adham as well for great customer service.
You must sign in to your account to leave a review